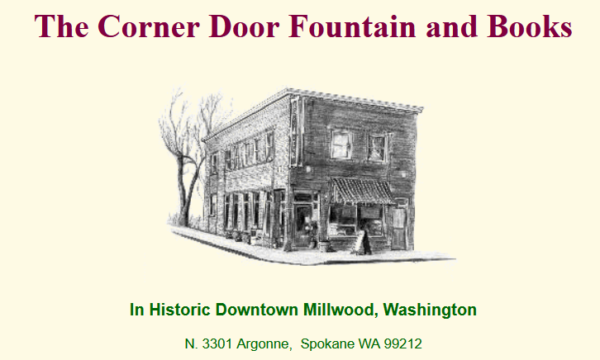 The Corner Door is a small, family run store that serves locally made ice cream, home-made soups and sandwiches made as you order them.
Plus this, somewhat quirky, establishment has an eclectic collection of new & used local history and Americana books, Folkmanis & Ganz puppets, and whatever art, leatherwork, and jewelry that the family can produce.
Sandwich (made as you wait)

Soups (made from scratch)

Salad (made as you wait)
Raspberry Oat Bar

Lemon Bar

Chocolate Chip Cookies
Milk Shakes
Cones
Sundaes
Ice Cream Sodas
Casual used paperbacks, mysteries, fiction, literature, all priced very reasonably.
Parking is available on Dalton along side the building, or in the lot across the street behind Bottles.  Or on Dalton further down the block.
Details & Info
3301 N Argonne Rd, Millwood, WA 99212
Hours: Monday – Saturday 10:00 am to 7:00 pm
(509) 921-9253